Lamson Fly Reels
Lamson Fly Reels are some of the best on the market. I own the 6-8 weight Lightspeed model and this reel comes with one of the lightest frames and smoothest drags that I have ever used. If you're looking for durability and quality, do yourself a favor and pick up a Lamson. Lamson is a leader in the industry and deliver when it matters most. See the descriptions below and decide for yourself.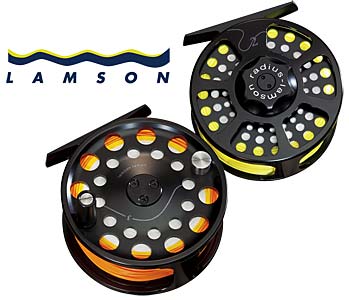 Radius: A Lamson fly reel for fly anglers who want a quality reel without the high price that usually comes with it. Equipped with the Waterworks zero-maintenance conical drag, Radius reels have a smaller overall diameter and smaller arbors than other Lamson reels. And they offer the core technology and craftsmanship of Lamson's more expensive reels. The open-frame design and fully ported spool combine to reduce the overall weight. The large drag knob offers easy adjustment. Easily converts from left-hand to right-hand retrieve. Priced $145-$185.


---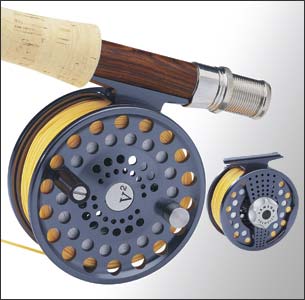 Velocity: This large-arbor Velocity Open Frame Lamson fly reel showcases sophisticated frame geometry that significantly reduces weight while retaining strength and rigidity. It features the same industry-leading fully sealed and zero-maintenance conical drag system found on the Lamson Litespeed reel. It also has a Torrington zero-lash roller clutch, which sports a number of ramps and rollers to achieve torque transmission without teeth or steps to break off or wear out. And the zero-lash feature delivers instant line engagement to help protect light tippets. Spare spools cost $95-$125. The reel itself costs $209-$279.


---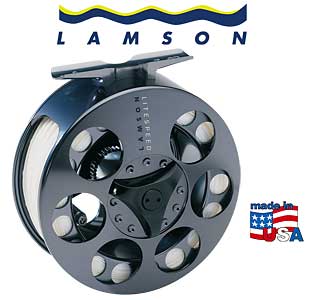 Lightspeed: This large arbor Lamson fly reel comes with a conical drag system that produces a wide range of extremely smooth drag pressure. The drag system is fully sealed. The conical drag significantly reduces start-up torque. This reel is very light. Fully machined from solid aluminum. Comes in two different finishes. Available in 6 different models for almost any fishing situation. Extra spools for this reel cost $155-$170. The reel is priced $259-$379