Take a look at my favorite fly fishing videos.

Looking for fly fishing videos? If you're new to fly fishing and fly casting, I think you would be able to benefit from these references. No other fly casting video has helped me as much as this first one when I needed to improve my technique. Lefty Kreh is a master and world reknowned for his fly casting abilites. I met Lefty at a fly fishing demonstration done through one of my local fly shops and he was simply amazing. I watched as Lefty cast a fly line, using only the top half of the fly rod, over 60 feet. Just imagine what he can do with the entire rod. If you want to improve your cast and technique, do yourself a favor and buy this video.

---

Another superb video is one by Joan Wulff, wife of legendary Lee Wulff. Joan is an expert fly fisherman who has a natural teaching ability. I have this video also and is second on my list of favorites. I bought it after watching a fishing show with her throwing giant streamers to enormous brown trout. Her technique and grace are unmatched and this fly fishing video proves it. Take a look, you won't be disappointed.


---

This is an elegantly straightforward guide that will tell you what you are doing wrong and what you are doing right. It assumes some foreknowledge of the sport and therefore doesn't condescend. The friendly but not over-cuddly hosts are painstakingly thorough and not pedantic -- they've inspired me to tie my own flies, even. In the dark of winter, it's the next best thing to being "out there." Highly recommended to those who sincerely wish to improve their knowledge and skills.
---
Another one by Lefty. I have not seen this one but if it's from the master, who can argue. This one features all kinds of tips and techniques for doing what we love best. This fly fishing video also comes highly rated. If it's anything like his casting instruction videos, it will definitely be a good buy.

---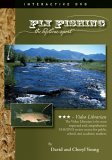 Fly Fishing the Lifetime Sport is designed as an interactive, straight forward teaching experience using approximately 4 hours of video and oral explanations. This fly fishing video clearly reveals the art and science of fly fishing. You are giving yourself the opportunity to enjoy Americas most comprehenisive fly fishing school. The videos are like taking a giant field trip into the great outdoors. You will see the methods clearly demonstrated as they catch wild fish. The course is outlined in 14 chapters covering every aspect of fly fishing. This course is a complete reference tool for beginners, intermediates and experts. The more times you review it, the more knowledge you will gain. Fly Fishing the Lifetime Sport is a refreshing field trip into the beautiful fly fishing locations around the country.
---